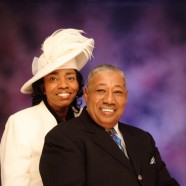 Due to the coronavirus pandemic and our endeavor to comply with CDC guidelines, we will be conducting live-steam services only, each Sunday at 11:30am, until further notice. Physical attendance to all services has been canceled.
However, we encourage you to tune in and invite others to worship the Lord with us via live-stream.  Thank you.
Holy greetings, in the precious and adorable name of Jesus Christ! It is with the great joy of Jesus that we welcome you to the House of Prayer Church of God, (HOPCOG) Inc.  website.     "Everyone Bring One and Win One To Christ!  
As we reflect upon the past 80 years, it becomes vividly apparent that the Lord has placed His stamp of approval upon this Kingdom-building work, as the move of God seems to increase year by year, every round going higher and higher! It is our abiding desire to win lost souls to Christ. For us to accomplish this, "Everyone  Bring One and Win One To Christ! Again, welcome and prepare your souls to be and to receive a blessing?
Yours In His Service and At His Call,
Bishop Francis S. & Evangelist Janice Myles